One thing I'm pretty excited about doing in the next few months is presenting at and participating in a Key Forums Conference on blogs, wikis and RSS in Sydney in March.
It's going to be particularly interesting for me as in the first place it's somewhat of a different crowd of people (um, it's over $2k a ticket) which will no doubt lead to some different perspectives and conversations (as well as some whole new jitters ;) and in the second the quality of the other panellists is something to behold!!!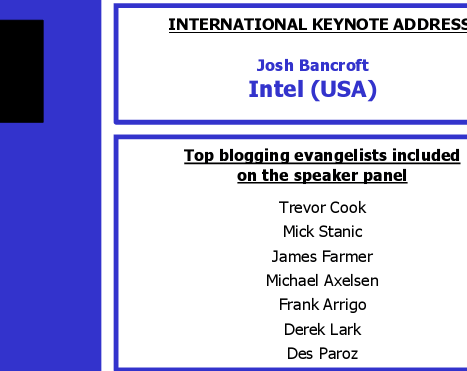 I mean, sharing a bill with Trevor and Mick is a pleasure I've had before and didn't know I was going to get to repeat and add to that Frank Arrigo, Des Paroz and Josh Bancroft among others and well, it's going to be a cracking couple of days.
So if you have a couple of grand to spare ;) why don't ya com along… or better still get your organisation to pay for you to!!!
It's in Sydney, 29th – 30th March.