Derek's link and commentary on Scott Wilson's inaugural post The VLE of the Future has spurred me into illustrator action to try and explain why I think that the Online Learning Environment (OLE – I prefer that to Virtual, it's very real I think) is indeed going to be an aggregator integrated with other aggregators.
So what's with the the title of this post, well, as much as we might quibble about if it's a VLE or an OLE more often than not I hear the WebCTs and Blackboards of the world referred to and Learning Management Systems (LMSs) and after so much pushing of alternative vocabulary / acronyms, this doesn't just seem to be sticking but in fact growing (I swore I'd never do this but google searches for LMS – 2.2m and for VLE – 493k). Why? Well, I think that' s fairly obvious… because that's what they are.
We're obsessed with management, I reckon. Managing our finances, managing our workplaces, managing our kids schooling, managing our expectations, managing our knowledge, managing things to such a degree that we have squashed personality, differences, argument and life. Needless to say we've been scared out of any possibility of incorporating subversion into our design and development… from a business perspective. As David Weinberger put it in cluetrain, we live in "a profoundly managed age" where "we manage our households, our children, our wildlife, our ecological environment. And that which is unmanaged strikes us as bad: weeds, riots, cancer."
And so our LMSs cater to this very well indeed. They provide the most stunning potential for auditing teaching and learning ever seen, they force their users to (on the whole) adopt uniform presentation strategies, they almost entirely do away with individual ownership of material, communication and personal space and they impose upon teachers pedagogies and strategies which those managing the process find to be acceptable… and if you do dare to mess with anything then you're accountable to policy and procedure in this area which, quite probably includes the kind of IT restrictions that are necessary to maintain the 'managed' environment and hence prevent any sort of deviation, subversion or individual expression.
So, if I was a betting man I'd say that the future of the OLE is, probably, unfortunately, the LMS. But, it doesn't have to be that way…
I reckon that through weblogs and aggregation we can un-manage OLEs, we can, dare I say, incorporate subversion into our learning technologies and we can stop the rot of terrible student evaluations, frustrated and alienated teachers and encroaching managerialism into teaching and learning and what I'd like to do, briefly, is examine two possible models.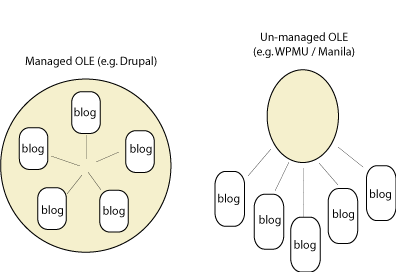 The first of these is, unfortunately, the one that I think will take off quicker. What we have is a CMS acting as an OLE which facilitates the development of blogs within it, this is similar to the weblogs at upei initiative (which isn't an OLE) and you can experience it for yourself if you set up a blog (by writing some blog posts) at the incsub association. This is do-able within a traditional OLE as you provide each learner with the capacity to develop a blog, aggregate these through the course homepage and so on.
That is not to say that this hasn't been very successful however, obviously the weblogs@upei project has done extremely well, as have other communities founded around similar principles such as Kairos News and Urban Vancouver. BUT this is opt-in management, individuals who are using this are joining in the same spirit as one joins a listserv and are keen to participate in the community and hence work within it's constraints. I don't feel that this is the same in a class environment.
Take, for example, a typical tertiary student. In any one semester they may well be enrolled in four units each with an online presence each lasting effectively 13-14 weeks… now if each unit has a community and you ask that student to join these communities and keep a blog in each one… the question arises as to whether they would or not… and I'm betting that they wouldn't (I certainly couldn't be bothered). Factor into this the matter that they don't 'own' their blogs (the community owns them), they most likely will just get archived / put away somewhere after the term has finished and the fact that probably (certainly presently) their ability to format / develop their bog individually is limited to, if their lucky, a new banner… and I think you'll get some pretty unmotivated learners.
However, if that learner has their own blog 'outside' of the central, managed environment then things can start to look a bit different. Let's say that in this case they are studying four units and they can simply create categories for each one (so postings relevant to that unit can go there and to their main blog if appropriate), that that category is then aggregated into the 'central' area (where unit guides, copyrighted study materials, core materials etc. can also be found) and that this blog also serves as a portfolio cum social tool for the student in question (as each learner has also been furnished with their own aggregator). The student in question owns the content, they are able to develop their blog as they choose and do with their content as they please, they are able to develop an online presence over an extended period of time and become parts of communities through their blog (communities that will form as naturally as communities form in f2f college) and they are able to subvert the technology in many wonderful ways (podcasting, photoblogging, vogging etc. etc.). It's also their responsibility… and that is a great teacher in itself.
And that is what WordPress Multi User allows us to facilitate. Previously the only feasible option has been Manila which I find a bit too clumsy, proprietary and which costs (anything that costs never gets done around yer average institution without first going through enough red tape to kill off anything that was good about it in the first place) and I guess MT to a degree, but now, with development there is the potential for a fully fledged open source un-managed OLE based around blogs and aggregation.
What it needs is some bright spark who can do the code to figure out how to build it in with an aggregation / administration (like Schooltool)/ Content Management System and we'll be away… any takers give me a shout!