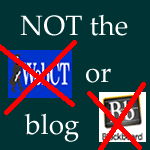 OK, am going to leave the final word on this topic to some guys that I think WebCT and Blackboard should think about consulting:
"A powerful global conversation has begun. Through the Internet, people are discovering and inventing new ways to share relevant knowledge with blinding speed. As a direct result, markets are getting smarter—and getting smarter faster than most companies.
Most corporations, on the other hand, only know how to talk in the soothing, humorless monotone of the mission statement, marketing brochure, and your-call-is-important-to-us busy signal. Same old tone, same old lies. No wonder networked markets have no respect for companies unable or unwilling to speak as they do.
But learning to speak in a human voice is not some trick, nor will corporations convince us they are human with lip service about "listening to customers." They will only sound human when they empower real human beings to speak on their behalf." [The Cluetrain Manifesto]
Read the entire book online here, for free, and think about where you're heading.