Another week another educational blogging service ;) Please say hello to eslblogs.org.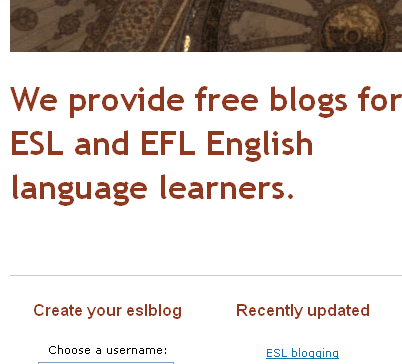 Am not sure whether this one is great folly or not but I figured that it just makes too much sense to leave alone! You may or may not know that not only am I a CELTA but that I learnt what little I know of this old teaching trade in the conversational markets of Japan and as an English language teacher in good old Melbourne… and us TEFLers are a bit different you know, so I figured what the heck.
The aim for this site is pretty simple, provide blogs for ESL / EFL students wherever they happen to be. Hopefully down the line I can expand this to other cool tools and get some of the community features up and running which will allow for students to connect and engage with each other. Like edublogs, uniblogs and learnerblogs it's a permanent fixture now and it'll be interesting to see how people value a shift in focus.
Oh, and on edublogs news I was *delighted* to read that Chalkface are doing well out of our partnership:
It wasn't that long ago that we would celebrate in the Chalkface office if a real teacher had been on Yacapaca that day. It felt hugely validating that someone had wanted to use our little system to run some tests with a class of perhaps 30 students.

Recently it's been a bit busier. A good weekday would see teacher numbers climbing towards 50 – that's 1500 students or so – or even peaking a little higher than that. I started to hope we would see the 100 milestone soon.

And today, something shifted. Perhaps because of last night's email, perhaps because of the edubloggers who are starting to join us, we were up above 50 by lunchtime. Sometime around 3pm we hit the magic 100.

And kept going.

At the time of writing (11.30 at night) we're up to 183. I'm just bowled over. And I'd like to say a huge thankyou to every teacher who has put trust in Yacapaca's ability to deliver good quality, motivating, formative assessments to your students.
As you may note the 'Supported By' element of eslblogs.org is currently empty and I was going to let the site get into swing before officially asking for interest… but if you fancy getting in early please don't hesitate to contact me.