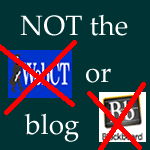 Am getting a bit bored of this now, think I have made my point though… perhaps :o)
Getting a lot of press this week has been Derek Morrison's latest article on Moodle as a Bb / WebCT alternative. It's well worth a read in its entirety but here's a spoiler:
"Although this is a brief and initial account of a work-in-progress we believe all the participants have created an online course to the design that we want and not one forced on to us by the VLE. We have been able to concentrate on providing a rich and dynamic environment for the students and Moodle sits in the background doing its job."
[personally I figure the best thing Moodle could do for itself is some re-skinning!]
Some interesting thoughts on integration of library and copyright systems within CMSs, sounds like David Monson would be a good Bb person to have a blog…
All over the searchsphere is the announcement that Bb will be 'accelerating' (ick!) elearning in China. Basically "more than 40 universities and schools across China have chosen The Blackboard Learning System(TM), provided by CerBibo Corporation, to power their online learning environments" which is probably good for them, but just because these organisations are buying Bb doesn't mean they're 'accelerating' elearning! Providing funding for research, developing new approaches, working with communities, building in cultural-specific aspects or just doing something NEW is 'accelerating' things… selling lots of units is selling lots of units.
Somebody should have a word with the PR manager at the bottom of this article… this is just the kind of farcical rubbish that will turn the market off you once its stopped panicking. Perhaps. We hope.
This is definitely a Bb day, here are a couple of prizes they're offering. The second one made me chuckle: "the Blackboard Greenhouse Project … "awards grant funding for initiatives that promote the adoption of Internet technology in the educational environment."" So, that'd be the adoption of Bb, right :o)
But then, who needs rubbish PR when you've got 'journalists' doing a far better job of it: Blackboard convenient to faculty, students
Finally, on a positive note, Scott points to a plugin which will allow you to see if your WebCT / Bb course is *really* accessible (i.e. it can actually be used rather than just having the potential to be used).
And maybe I'm all wrong, it looks like some Blackboarders are using blogs!!!
Oh, that'd just be to post bulleted sales points extracted from a letter, nevermind…