Thanks to everyone who suggested different multi-id IM tools (for XP) yesterday, have had a chance (in between regular Saturday stuff :o) to play around with a few of them and have some initial thoughts on the four different possibilities: , Jabber (using psi as a client), Miranda and Gaim.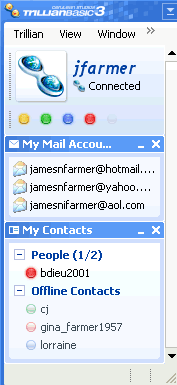 Trillian (which I mentioned yesterday) has definitely been the smoothest & slickest of the bunch, also the simplest (along with Miranda to get my user IDs working with (here AIM, ICQ, Yahoo & MSN). I can understand the attraction with this one although there are two fairly major problems… firstly there is 'limited' (to a degree) functionality here… you have to pay for any video as far as I can tell… but that just reminds you of how much you're in the hands of a proprietary tool and that might not suit the context I've got in my head for this (more on that in a minute). Secondly you can't (I think) use a Jabber ID through it… which could also be a problem.
However, if I had to choose a system for simply personal use which I felt good about straightaway I reckon this would win hands down (bear in mind I haven't really used it yet though!)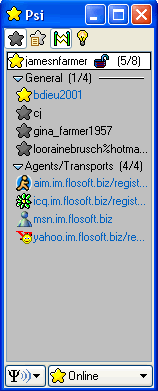 Jabber (using psi as a client was certainly a little more tricky to set up with all my accounts but started rolling pretty successfully after that. Certainly not as slick as Trillian but seemingly robust and effective. The big bonus for this of course is that it's based around Jabber which allows you your own IM server (behind firewall if appropriate) and like Jabber, the psi client is completely open, free and will be yours… so if you've got, say, a University where you want to have each employee set-up with IM that can be auto-populated with their work group through secure connections as well as allowing for connections outside the Uni and through other IM applications (other than the Uni's official ones)… you get where I'm coming from no, perhaps :o)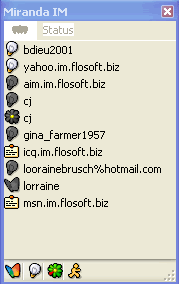 But while Jabber is immensely appealing for that purpose I don't think you necessarily need a dedicated Jabber client running on desktops and in many ways the ease of use that I got through Miranda in setting up accounts had me sold from the start. Like the Jabber client psi this is open source released, under the GPL license and links into Jabber (so that could be your secure connections I guess). Looks worth a good look!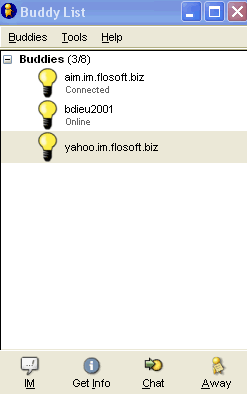 Finally had a look at Gaim which while being a bit swishier than psi and Miranda doesn't seem to be much different to them. I've had a few problems logging in with this one too but that could well be down to me having tested all the others first and my various IM accounts getting a little suspicious of the fact that I keep logging in and out (and hence blocking me hmmm…) However, looks like it's worth a shot too.
So where to from here? Well, what I'd really like to do is, over the next week or two, try out each of these a bit more thoroughly (features, operations etc. etc. etc.) and also continue exploring the secure Jabber server option to see how much potential there is there and what the relevant costs / issues might be. I'm going to try and rope a load of colleagues into this with me but you could really help by adding me as a contact and joining in for the odd chat / mess around, please do… I'll publish what comes up in a few weeks.
So, if you could add me as a 'buddy' or whatever then that'd be really cool (you can always tell me to bugger off as soon as I'm done with this :D Here are my details:
MSN : jamesnfarmer@REMOVETHIShotmail.com
ICQ: 226997956
Yahoo: jamesnfarmer
AIM: jamesnifarmer
Jabber: jamesnfarmer@im.flosoft.biz
Speak to ya soon!