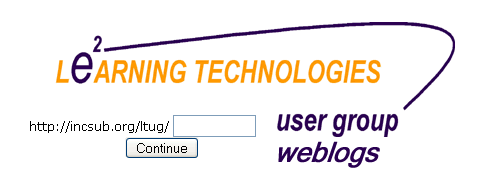 Just posted over at IncSub about a workshop I'm running this morning for the Learning Technology Users Group.
What makes this a little more special than your average workshop though is that we're sending them off at the end to create their very own LTUG Blogs…
So, if you'd like some (online or ftf) workshops on blogs / RSS / wikis / communities of practice & more AND/OR 'Weblogs @ Your.edu' set up for you – for very few $s indeed then please get in touch with us.
We can even develop themes which feature your organisation's templates / branding etc. etc.