Had a really nice bit of grub and a few drinks with CogDogBlog the other day, a.k.a. Alan Levine (who is blogging his trip downunder here) and after I'd lulled him into a false sense of security, asked him what he reckons edublogs could do with.
"How do people get to share their blog?" he barked…" (well, OK, he didn't really bark but I'm keeping up the metaphor) "So, they've got a new blog, how do they tell the world?"
Well, all I can say is 'good boy'… 'cos I reckon that's a very good point that we've been overlooking… but not any longer.
Now, from your edublogs dashboard, you can simply send an email to any number of friends, colleagues, family or students telling them all about your blog… you can even import your yahoo, gmail or hotmail address book and tell the lot of them!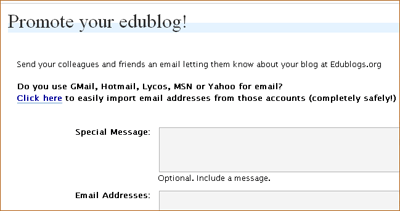 So thanks for the tip Mr Dawg, I'll get you an extra biccie next time we meet :)