Ladies and Gents, we give you WPMUDEV Premium.
This is a joint project between Andrew Billits and myself that aims to find a way to provide complex custom plugins, materials, hacks and support for WordPress MultiUser (WPMU) for a fraction of the amount you'd have to pay a developer.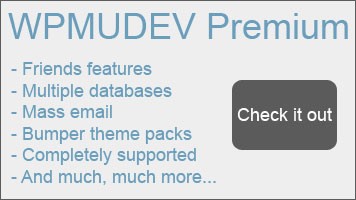 It's already stuffed full of goodies; there's the multi-database code that's used on Edublogs (happily supporting 50,000 blogs on the one domain), mu-plugins to give you the lowdown on all your user activity (active users, posts, comments and more!), unbranded support videos for you to use on your WPMU site and a new bumper theme pack with uploadable headers a gogo.
And lots, lots, lots, more… which we're going to be adding to all the time.
Plus there are comprehensive support forums to back up all of the code there.
Oh, and you can suggest projects that you'd like to see, and if they're feasible we'll look into developing them… not bad huh!
Sure, in an ideal world we'd like to be releasing all of this for free, but an *enormous* amount of time has gone into developing it and we'd like to get a system going whereby we can actually support ourselves (and eventually others?) in providing an equal amount of ongoing development and support… while being able to afford to eat.
So, here you have it… let us know what you think and, um, tell all your friends :D