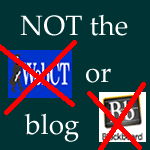 This article from Campus Technology (via XplanaRadio) introduces itself rather well:
"Six years have passed since course management system vendors began selling products to universities. Today's customers often feel shoved into a corner by their expensive CMS investment because the system is too costly, unstable, inflexible, and too clumsy for most faculty to learn and use effectively…

…CMS products from the vendors Angel (www.cyberlearninglabs.com), Desire2Learn (www.desire2learn.com) and eCollege (www.ecollege.com) were uniformly praised by their users. In contrast, WebCT (www.webct.com) and Blackboard (www.blackboard.com) were routinely criticized for skyrocketing prices, bugs, and ease-of-use problems." [my highlight – Campus Technology]
Some of the other stats are equally shocking, it'd be great to get a complete breakdown / more details of the study.