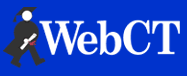 Hey, big news, guess all the 'not' blogging and so on paid off.
I've been offered the post of 'Chief Blogging Officer' at WebCT developing their community manager operations and communications strategy.
Basically it would involve developing a blogging system to operate on the open web which integrates with Vista, building in full RSS capabilities into the system (a la Moodle) and writing about it all in the blogosphere… markets are conversations after all.
It's a no-relocation-required job too… so what do you think I should do?