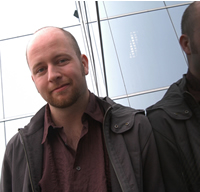 Welcome to incorporated subversion, my name's James Farmer and this is my personal site.
I'm the founder of Edublogs and co-founder of Incsub.
In past incarnations I've been involved in new media as the Online Community Editor of The Age and worked as a Lecturer in Education Design at Deakin University.
I've been writing here (or hereabouts) since late 2002 and you can generally expect to find me rattling on about education, media, design, social software, open source and most things in between.
The name 'incorporated subversion' comes from the late David Squires who, in his 1999 article 'Educational Software and Learning: Subversive Use and Volatile Design', argued that:
"Designers should consider designing for subversive use, recognising that users fit the use of ICT environments into contextually tuned 'situated' learning environments."
I believe strongly that design in many contexts, be they educational, organisational or in media, should be facilitative of freedom. Too often we hold back users through unnecessary constraints when we could be encouraging expression, exploration and achieving far greater success through incorporating subversion.
Please feel free to get in touch.