Skinning Gmail with a Custom Stylesheet from persistent.info
Install the URLid Mozilla/Firefox extension.
Download this CSS file.
Locate your profile folder and the chrome folder within that.
Copy the downloaded CSS file to the chrome folder and rename it to userContent.css (if you already have such a file, you will have to merge the two) [you can customize it if you want].
Restart Firefox.
Visit Gmail.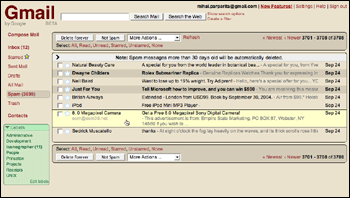 Via :Nick Bradbury
Nick also posted – Read your GMail inbox in FeedDemon
Google recently added an Atom feed to each GMail account. To subscribe to your inbox Atom feed in FeedDemon, click the "New Channel" button and use this URL:
https://gmail.google.com/gmail/feed/atom
After subscribing, you'll be prompted for your GMail user name and password. The feed is fairly bare-bones at the moment, but it's still a nice way to be alerted of incoming GMail.
One Response to 'Customize your GMail'
Leave a Reply